Mystic Triplets mysteries
On the death of their witch mother, and disappearance of their father, five year old triplets Holly, Frost and Noel Corey were separated among relatives and not reunited until they were twenty-one. Then, returned to their family mansion in Mystic Connecticut, all Holly wants is to keep them together as family, and maybe continue her romance with the handsome police Sgt. Tranvinski, who occasionally drops by to arrest one of her brothers for murder...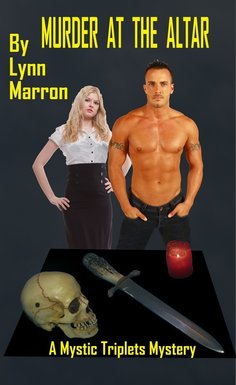 2) MURDER AT THE ALTAR
Available in Print and Kindle on Amazon
Available in Print and Nook on B&N
In the second of the Mystic triplets mysteries, brother Noel is accused of poisoning a fellow Beluga trainer at the Aquarium. When Holly Corey starts investigating she visits her Old Craft mentors, Sarah and Abby Hoyt. Unfortunately against their advice, Holly accepts two new long term guests at the Corey Bed and Breakfast: Lilith (once a member of her father's coven) and Lilith's younger warlock architect (and sometimes lover) Gregory St. Clair. ​Lilith is pressing to buy the Old Mill that the triplets' mother ritually suicided in, while Gregory is trying to seduce Holly up onto the high altar at Grace La Fleur's Church of Nature's Bounty. Afraid of the Wiccan ritual, but needed to know more, Holly drags Sgt. Paul Travinsky up to the beginnings of the naked Yule celebrations that wind up being raided by his fellow cops. While the Sergeant is being told to stay away from Ms. Corey or give up his job, Holly finds herself in danger of losing her life--or her soul--to the combined efforts of the Rasputin like Gregory, and the powerful, mind controlling Lilith.
---
1) THE PSYCHICS'

SEAPORT

MURDER

Available in Print and Kindle on Amazon Available in Print and Nook on B&N

The first in the Mystic Triplets mysteries. When their Old Craft worshipping mother dies of stab wounds on Beltane, her young triplets are separated for seventeen years. Raised without knowledge of her witchcraft heritage, Holly Corey returns to the Connecticut Seaport of her birth. Reunited with her two brothers, her only goal is on turning 'Witch House' into a viable Bed and Breakfast to keep the three of them together; that is until she meets Sgt. Travinski, the handsome policeman, who is determinedly pursuing both Holly (for love) and her brother Frost (for murder).