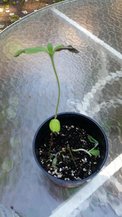 A New Grace Farrington DNA Mystery!

I've got a new editor, so have been able to work on the publishing backlog somewhat, so we've finally got ORR: Murder Genetically Engineered in print! You've got a first peek at the cover! Again Grace has two men vying for her attention, old money David Gardener finds himself competing with the very attractive owner of the a genetic engineering conglomerate, Axel Jensen, founder and C.E.O. of Humanity's Harvest. Grace returns home from getting the MacAlpin Guru award and finds Oyster River Research is being picketed by anti-genetic engineering activists. The demonstrations escalate to violence. Soon Grace works at solving a current murder at ORR, while she also utilizes her DNA genius to unlock a fifteen hundred year old enigma related to Incan nobility. See Amazon or Barnes and Noble for print, kindle or nook copies!

Over the years I've followed genetic engineering, and while human medical applications haven't worked out as yet, I still think the process will someday save our food supply. A genetically modified organism (GMO) is not intrinsically bad, anymore than a hybrid ear of corn or an apple from a grafted tree. Yes, a farmer needs to engineer tomato skins tough enough to survive mechanical harvesting, but maybe genetic engineering can also put a little more focus on pleasing consumer's taste buds, and set up further testing to determine if this new organism isn't harmful – that all can be worked out with the free market.

From ORR: Murder Genetically Engineered you can see I've spent a lot of time in the two Connecticut museums that are carefully unnamed in the book, but if you've ever been in New Haven or Bridgeport you'll recognize them. Like my mother took me, when my guys were small, I hauled the twins to see the dinosaur bones, and a real Egyptian mummy in its sarcophagus. I love old things, especially old technologies, but the kids didn't. Still, they liked the rock candy in the museum stores and maybe they'll haul their kids to see the elephant!
​
---